So what can you do with the lasercutter? Our bright red lasercutter is a CO2 lasercutter from Universal Systems. At 60W, it can engrave and cuts through materials such as paper, cardboard, wood, acrylic, corks, leather, and anodised metal, to a fine resolution of 0.01mm.
Our community uses it for rapid prototyping, solving daily life problems, and creating customised gifts for friends. Here are some of our favourite lasercut projects, designed and made by our friends and community at the cafe.
1. Lasercut Brooch
One of our customers had an idea to create a brooch so people use it to hold their scarves in place easily. Instead of using the usual brooch pins, he decided to fashion it out of magnets. The magnets we used had to sit flush against the wood. The front and back pieces should not slide over one another. We even tried using coins to hold the magnet in place! We're proud to say, it's a work in progress. The magnetic brooch is in constant iteration.
p.s. If you want to get a magnetic brooch, we'll put you in touch with the designer. Say hello@fabcafe.sg

2. Lasercut Acrylic Coasters
We've always known we've got a special team. What makes this even more special is that our Barista, Intan surprised us with her coaster designs one day. Check out the way the coasters look when stacked, and those cool edgy designs that reminds us of our fascination with speed, Beyblades, and childhood spent with Sonic the Hedgehog.
3. Lasercut Raspberry Pi Box
Alright, so this was done by our Fabrication Director Wouter. He designed this box and cut it our of acrylic to house his Raspberry Pi. The pieces fit snugly to make a compact box. A ghostly shell for the machine. What does the Raspberry Pi do? Well, Wouter claims he's using the Pi to block Ads on the Web. See project guide on AdaFruit here.
4. Laser Engraved Personalised Notebooks
Designed by us. We constantly get asked if we can do customised designs. What's really cute is when a trio of Japanese teenage boys walked into our cafe and decided to engrave their notebooks with a group emblem, and customised each with their own names.
How you spell "Friends 4EVA" in 2017.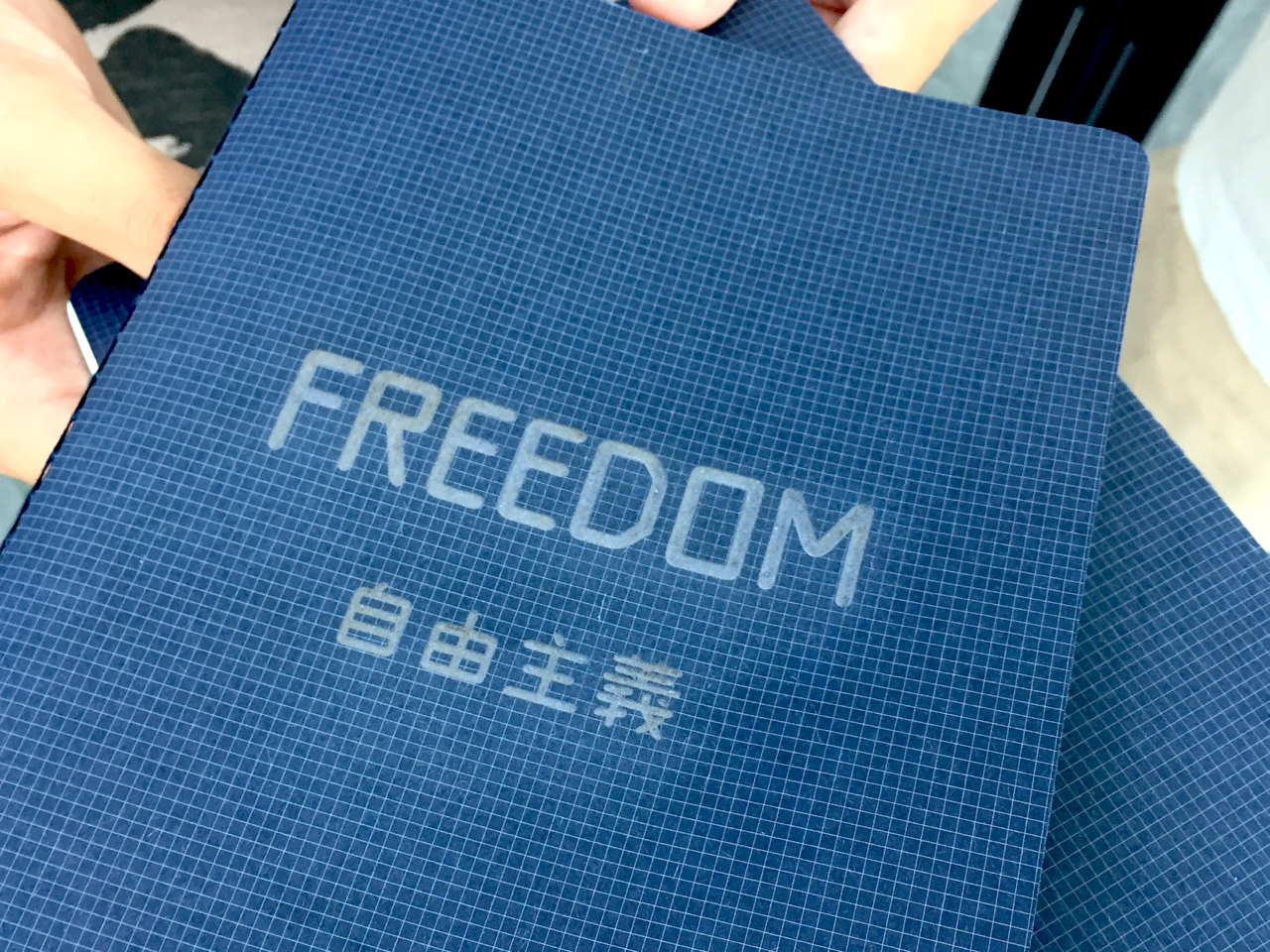 5. Lasercut Stamps for TEDx Women
We love it when the community is doing great stuff. TEDx Singapore had a Special TEDx Singapore Women Special last year, featuring the theme It's About Time. We made stamps engraved with bold blocks of text, and intricate floral patterns in celebration of the beautiful Deepavali weekend. We had a pop-up FabStamp station during the event, and attendees of TEDx Singapore Women used the stamps to customise their tote bags!
Pop-up FabStamp station at TEDx Singapore Women. Attendees of the event used our stamps to customise their tote bags, notebooks, faces, and some even the T shirt on their backs!
6. Lasercut Optical Illusion Accessories
We made these shapes for a Make Your Own: Comayose Pins! workshop, in conjunction with ArtScience Museum's exhibition on Dutch graphic artist M.C. Escher, Journey to Infinity: Escher's World of Wonder. Inspired by M.C. Escher's mind-boggling eye-bending mathematical art, we chose a variety of wood and laser cut them into shapes. Participants could assemble the shapes and design their own accessories.
We made some mini FabStamps and wanted to find a packaging that could fit 4 pieces and translate the hand crafted feel. Wouter played with some patterns, that when engraved, would allow surfaces to flex. With that, we crafted a box with curve corners and laser cut it out. What we got was a beautiful wooden box that felt organic, friendly, and capable of housing our mini FabStamps.
8. Lasercut E Ink Display Frame
One of our customers is creating an e-ink display product for advertisements.
He and his partner had the e-ink display screen but needed a frame to house the screen in. So we laser cut some pieces out and layered them. The corners were screwed together so the layers held the screen snugly in place.