City Farm: The beginning of a vertical forest

It has been said that the average city dweller spends over 90% of their time indoors, whether it be in the office, at home, on the train or in a car. The idea behind the vertical forest in the home is to think about the indoor air quality in the city. One way of doing this, and reutilizing the home in an interesting way, would be to make the inside of our homes into mini farms, building a balance between beauty and air purification.

But how do we know what plant is suitable for our home space? What kind of plants produce the best quality of air in the home? Many homes in cities are too small for wide planters, what other spaces in the home can we utilize for plants?

At City farm, Vol. 1, in FabCafe Taipei, participants began to think about the corners of their homes that could become a space for plants and communicated their experiences and ideas with the attendees of the same table through drawings of their homes. Invited designer Ray Hsi shared their story of zero-based planting, including their knowledge about existing vertical planting application. In the second half, Dai-ling Lin, author or Being A Farmer Once in Your Life introduced the corners of the office where the air is not particularly circulated, and introduced a matching planting method.

To learn more about this new project, I interviewed Yipin Huang, one of the several awesome FabCafe Taipei Staff.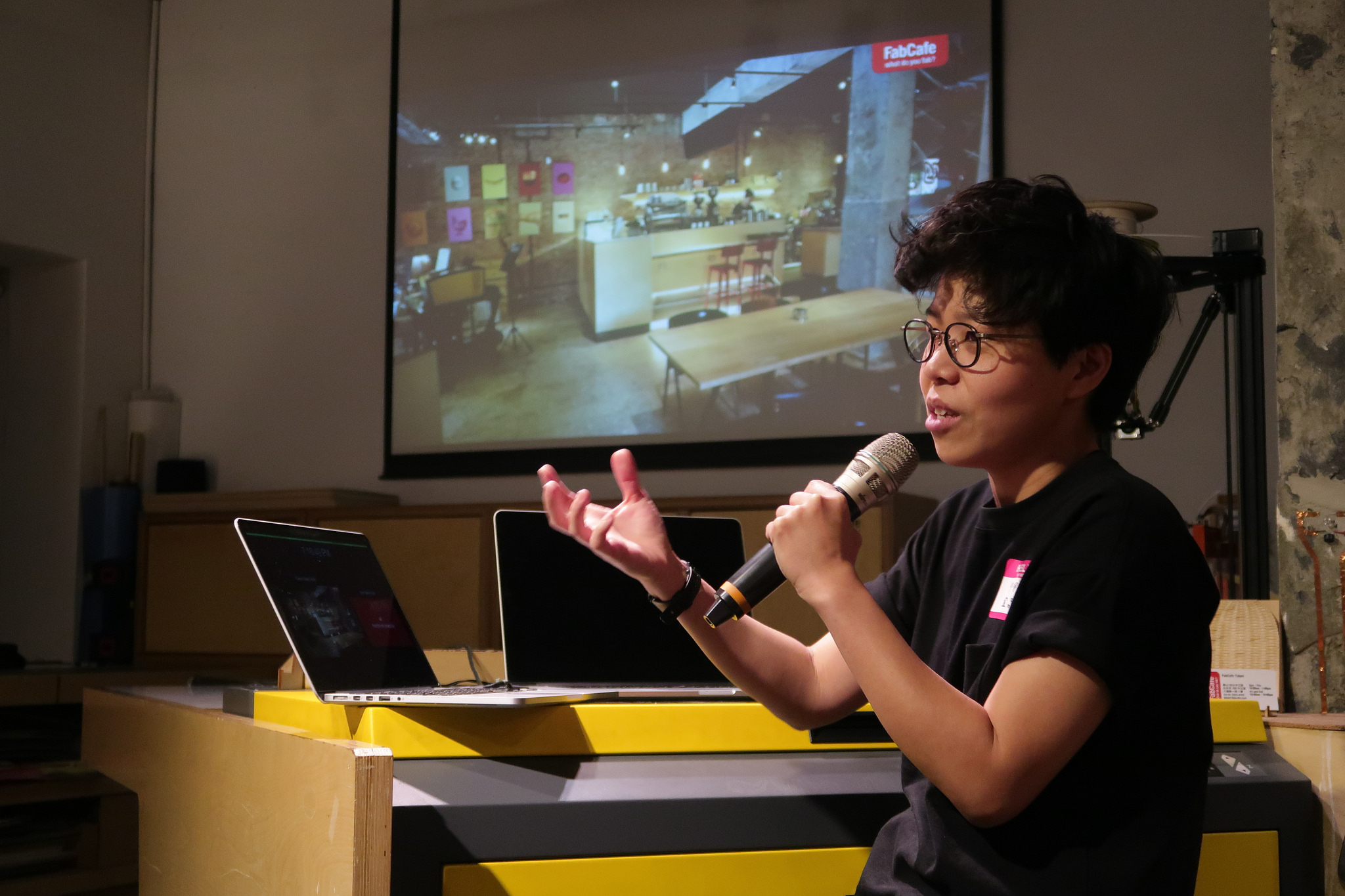 Yipin, one of the awesome staff of FabCafe Taipei.

Hi Yipin, Can you tell me a little about the City Farm project in Taipei? How did it get started and what is the mission?
About two years ago, FabCafe Bangkok started a project called Farm Hack. We at FabCafe Taipei thought this topic was quite interesting because agriculture in Taiwan is incredibly important as a basic framework for everybody's life here. So, the idea initially started as an inspiration from FabCafe Bangkok. From then, we started researching Taiwan agriculture and last year we did farm hack project with the architecture school. This felt very much like a kick off to our farm-related events. Following this, I met a creator in Taipei interested in the farming topic but she was more interested in indoor farming, like how to get clean air indoors, in the house or office. So, we decided to organize a series of talks around this topic.

Is there anything in particular about this project that you are excited about?
For me, I am super interested in making an entire wall of plants. Now, the architecture school in National Chiao Tung University is in the very beginning stages of trying to create a system to make this happen for plants that can grow indoors. One big challenge there I am interested in is the water support system of indoor farming. I don't think many people have a lot of time in their home so we need to build a system to automatically water plants.
Could you please tell me more about the City Farm: The beginning of a vertical forest project at FabCafe Taipei?
The event was about two and a half hours long hours and about 30 people attended. We had two invited speakers, Ray and Dai-ling. The main part of the event was where the participants drew a floor plan of their house and then we discussed as a group what kind of plants they could easily integrate into their house.

Can you tell me more about your collaborators?
Ray Hsi is a designer working on service & product design. She is interested in how to make everything modular system and how she can produce easy to use farming kits for customers. For example, she wants to create a packages set with the plant pots, the plants and then include instructions on how to install them directly into the house. We are going to work with other creators and make a container use the software Grasshopper but that part is still in the works.

Dai-ling Lin is the author of the book Being A Farmer Once in Your Life. She is an active farmer and provided us with a lot of interesting information about the needs of plants.
Ray Hsi is a designer working on service & product design

Dai-ling Lin, author of the book Being A Farmer Once in Your Life
What were some of the main questions that came about through the event?
Most of the people who participated have grown a lot of plants in their house and so many people were curious as to how to keep them alive with less work. They exchanged knowledge related to water systems, sunlight, and the environment itself. We still don't know for sure which plants are best for the home for the air or for the home environment. These are questions to be explored for next following events!

Do you think the contents covered in this event are particularly important in Taipei today?
A lot of people seem to be caring about the quality of the air on their homes recently. Which is why in this project, we are trying to make something easier to get into, more entry level, so anyone can join the discussion. Sometimes, project in FabCafe can be a little more difficult for people who are just beginning in a field so the core of this project is to focus on simple but really interested topics so the public can join. Also, with this topic, we can collaborate with generative designers and farmers.

What kind participants came to the event? And who would you recommend these kinds of events to?
The participants who came seemed to know a lot about farming and gardening and they just wanted to share their experience with other people through the event. The quality of the discussion was very high but I think even children could join and enjoy the event. The generative tool workshop could be of a higher level but for this one, anyone can join because they can just use paper and pen to draw a floor plan to initiate conversation.
Will City Farm have future events? What kind of events can we look forward to?
The following workshops can be about soil and how to use organic materials to make better soil. And one of them will be about how to try to generate something, perhaps a container of some sort for the plants. The events do not have a particular order so people can feel free to join anytime!
Thank you, Yipin for talking about the City farm project in FabCafe Taipei! Please let me know when guys you figure out how to incorporate a full scale vegetable garden on a Tokyo-apartment-sized-balcony (read: super tiny). The veggies here are quite expensive and my aloe plant is quite lonely
---
This interview was brought to you by..

Yipin Huang is a Loftworker who mainly works on FAB related projects in FabCafe Taipei. Future farmer? Time will tell!

Ray Hsi is a designer working on service & product design.

Dai-ling Lin, Writer and farmer. Author of the book Being A Farmer Once in Your Life.
---
About The Author

Kelsie Stewart is the International Communications Coordinator and Barista at FabCafe Tokyo. She blogs about coffee, food, and Fab. She lives, blogs, drinks coffee and works in the creative and ever-growing neighborhood of Shibuya in Tokyo, Japan.