FabCafe Hida held a pre-opening festival on Oct. 17 and 18 titled as "Hidakuma autumn festival 2015".
Many people around the nation came to celebrate the event. There were many programs held in more-than-100-years-old Japanese house at the same time such as Fab workshops, an exhibition, music live performance, 3D printer demonstration, talk show, open discussion, food and drink using Hida's delicious ingredients.
Hida is known as its rich forestry, especially with broad-leaved trees. Our aim is to utilize these broad-leaved trees which have no value in the current market and produce products while bringing innovative ideas to the society.
One of the example showed in the festival was 2 speakers made of different broad-leaved trees. One is zelkova and the other is walnut. Designed by a sound designer, Yosi Horikawa and produced by Oak Village in Hida. We wanted to experiment how the sound differs when we hear the sound from different trees. You can see beautiful shape of them in the below photos.
FabCafe Hida will be officially opening its door next spring as a 2nd digital fabrication cafe in Japan. Anyone can come and enjoy fabrications, workshops with good coffee and tasting food made of Hida's delicious ingredients. The difference from FabCafe Tokyo is with its rich forestry. You can enjoy creating and prototyping uzing a variety of broad-leaved trees. FabCafe Hida will also run an accommodation where anyone such as architects, designers and creators will be able to stay in order to experiment with FAB machines and wood working machineries for creating innovative products by mergining their ideas and creativity with Hida no Takumi's traditional joinery technic and their wisdom.
We will constantly update you with new information in this blog, so please stay tuned and enjoy the below festival report, first!
An everyday sight in Hida-Furukawa. A view like something out of a painting.
High school students looking in through FabCafe Hida's entrance.
The event opens with a greeting from Mr. Inoue, mayor of Hida.
A display from innovation workshop [f.Labo]'s "4th Tenkaizu Budokai (Schematic Plan exhibition) ~This Chair is Nice!"
Many different works

Everyone trying out chairs and voting on their comfort levels
The kids are trying them out too! Is it comfy?
Children playing with wood. Looks fun!
Participants in COMAYOSE's accessory-making workshop. They look really focused.
Many cute little crafts. COMAYOSE refers to little pieces of wood (COMA) cut by laser cutter and then combined (YOSE) to make a modern form of Japanese parquetry. In this workshop, we spread lacquer with cloth to make a board and use "dry-lacquer sheets" that allow laser treatment. "Dry-lacquer sheets" are a new lacquer material developed by Kenji Togi of Miyagi University and Kazuya Satou, who runs Go Shizenkobo Co., Ltd. in Sendai. Lacquer is typically assumed to be red or black, but it also can be made in blue, yellow-green, and many other colors. Choose parts with the colors you like and attach them to your COMAYOSE.
A "connected key holder" workshop with Kuluska from Kamakura. Looks like fun!
The finished piece!
The wild grass granola workshop is a big hit!
In the inner garden, we held a mochi pounding workshop using rice cooked in Hida's delicious water. Guests were lining up to get the mochi, which is eaten with egoma sesame or miso.
We were blessed with great weather and the inner garden was the perfect spot.
A workshop to make komo tofu, a traditional food from Hida. Hida's tofu is really a taste!
Many different experiences: a sewing art corner by AISIN, a 3D printer demo by FabCore, and a kimono bag workshop by the Hidafurukawa's Oobora Kimono Shop.
The kimono bag-making workshop by Hidafurukawa's Oobora Kimono Shop was popular with young girls and mothers. The finished clutch bags are so fashionable!
Participants heading out for the "Learn About the Trees of Hida Tour."
Touring a lumber mill in Hidafurukawa that specializes in broadleaf trees. They taught us about the sawing process and the tree's unique characteristics. They also demonstrated how to peel pulpwood!
Next was learning "tsugite" (splicing) and "shikuchi" (method) techniques at the Hida-no-takumi Culture Hall. Participants gave us some ideas on how to use kumiki wooden framing in modern construction and design.
We visited the workplace and home of Kimihiko Kaneko, a head carpenter that has inherited the spirit of the Hida-no-takumi technique. We were impressed by his skill as a carpenter.
We visited the workshop of Tsunesue Katada, a furukawa woodworker who runs a workshop and Calm's Cafe. A participant who wants to make his own woodworking consults with Mr. Katada.
A talk show with the theme "Forests, Trees and Sounds" held by Mr. Sasaki of Oak Village and Mr. Miyamoto, who manages a forestry venture in Hida-Furukawa. Mr. Suzuki talked about the relationship between wood and sound from his experiences with processing and the importance of forests. Mr. Miyamoto, a wood-cutter, talks about the deep relationship between trees and sound as a sound-lover.
The inside story on making speakers using Oak Village's broadleaf trees. Mr. Sawaoka, a first-class technician in furniture processing, used pictures and words to tell of his struggles with his first ever wooden, spherical speakers.
Speakers made by the hands of Mr.Sawaoka. The left is Japanese zelkova. The right is walnut. The grains are beautiful.

Mr. Sasaki, executive vice-president of Oak Village, sets the finished speakers, the fruit of hard labor, on a warehouse safe. The speakers would not have been built without Mr. Sasaki. He is recognized by the Japanese Audio Society as a DHT specialist and has worked with wood processing at Oak Village for many years. It was because of him that they were able to accept Hidakuma's extremely short-term delivery request.
Everyone is listening to the speakers in the warehouse. The listeners cheer at the beautiful sound. This time we listened to the sounds from a pair of speakers made of the Japanese zelkova trees, and we would like you to listen to the sound from another pair of speakers made of walnut wood in the future, too. Zelkova wood is a hard material while walnut is soft; it would be interesting to hear how the sounds differ.
Participants use a laser cutter to make stamps to their liking. Keep on experimenting!
A satisfied look on his face after he uses a laser cutter to etch the Hidakuma logo onto a smartphone.
With Chiaki Hayashi at the center, we talked on the "Symbiosis of Human and Forest in Design." We heard opinions from perspectives ranging from foresters and woodcutters to furniture makers to those involved in regional activities. Something is born from sharing. We felt the importance of polishing ideas through repeated discussion.
The trio of Chiaki Hayashi, Mitsuhiro Suwa, and Yoshiteru Takemoto give a talk on "Hidakuma's Future." Questions came in with a vigor. As examples, they introduced products born from the collaboration between artisans and designers, architects' experiences with sawmill lumber purchasing and creative space building, and plans to hold a camp for around 35 students coming from foreign design universities next summer.
Hidakuma's three representatives: Chiaki Hayashi, Director Suwa and Mr. Takemoto.
An artist from Toyama asking questions to Kotaro Iwaoka of FabeCafe Tokyo at the "Kumiki x FAB's Future" talk session.
A lunch live session by Tamura-pan. With her sweet voice and heart-warming message, the room was enveloped with a soulful atmosphere. Vocalist Tamura is from Hida-Kokufu and the guitarist Komura is from Hida-Furukawa. The pair that now live in the city but were able to see Hida from a different perspective. They said they want to visit Hida again. We're looking forward to it!
A cute boy and girl are looking down the Tamurapan's live performance
Tamura-pan and guitarist Nomura enjoy some mochi. And Chiaki Hayashi too!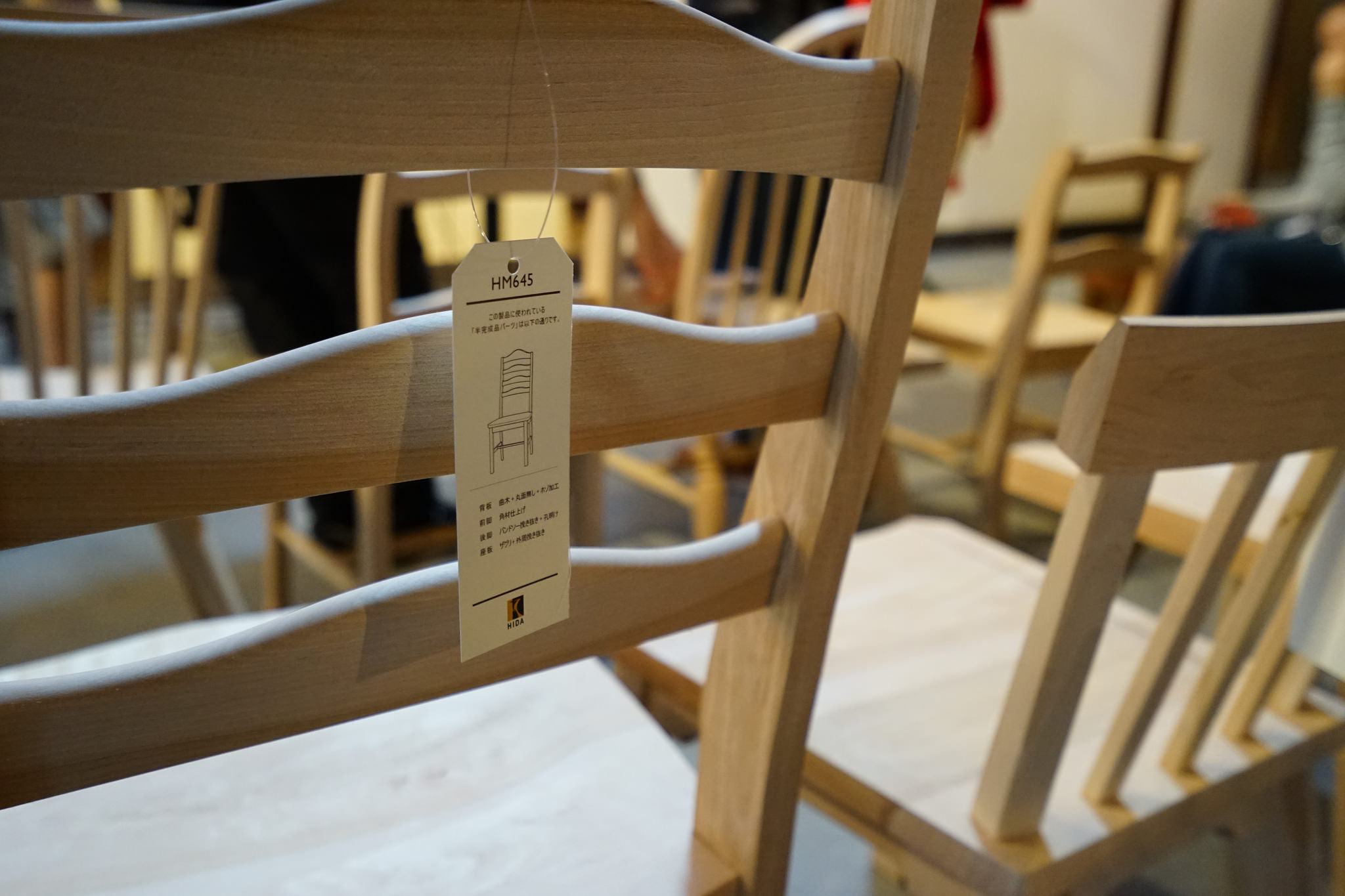 Completed "half-finished" chairs from Hida Sangyo x Nakayama Arts Research. Tokyo University of the Art's Nakayama Laboratory, which is responsible for FabCafe Hida's renovations, promoted the concept and the chairs made by Hida Sangyo. The chairs are "half-finished" on purpose so one can touch and feel furniture in the in-between stage towards becoming a finished product. You can't tell what journey a chair went through by just looking at a finished product. At Hidakuma and FabCafe Hida, where our joy is craftsmanship, we use items that allow you to directly see and feel the construction process.
Professor Nakayama Hideyuki of the Tokyo University of the Arts gives a talk at FabCafe Hida about design. The old civilian home and former sake cellar contains a mixture of the past from the Edo, Meiji and Showa periods. Nowadays, there is a general tendency to chip away at what remains of the Showa period, but Professor Nakayama is exploring ways to skillfully pass down the Showa "craft," the background story of the industrial recovery and the memories of a hard working generation of craftsmen. A new form does not reject the past. The past got us here and the here will then bring us to the future. So let us respect the past and work to build the future – that Hidakuma's position.
Mr. Tanaka of Tanaka Architecture, who is in charge of the plans for FabeCafe Hida, and Mr. Miyajima, who is in charge of the always-important electrical planning and installation in remodeled buildings. These two worked furiously, pulling near all-nighters, to prepare for the autumn festival – we are grateful beyond words.
Hidakuma's director, Mr. Takemoto is interviewed by Drawing and Manual. They are producing Hidakuma's official movie. We are deeply moved by D&M's perfectionist standards for their work; they make no concessions.
The Squeeze team from Tokyo makes fresh-squeezed lemonade. The stand was so popular and the lemon girls may get tendonitis from all that squeezing!
Mr. Okubo of Okubo Confectionery shows off his "Hida-kumanju" buns, developed through countless experiments in preparation for the autumn festival. The Japanese confectionery and cakes he makes are a real treat!
Mr. Okubo's masterpiece, the Hida-kumanju. The black bears are just a little more popular.
Tomatoes from Ms. Kira's Arigatou Farm that grows quality organic vegetables in Hida. Just one bite and spreads the sweet flavors of rich earth and warm sun through your mouth, trickling out bit by bit, at first sweet and then tart. These are a real treasure; a single one of these will turn your day around.
A Japanese sake tasting corner by the Watanabe Brewery. Many customers were so moved by the sake's vivid, clear flavor that they went to the brewery to buy some.
The lunchtime chicken curry and spinach curry were a big hit!
The Kuluska couple enjoys some curry.
A booth offering vegetarian muffins, cup-salads and local ingredients.
Awards ceremony for the Tenkaizu Budokai (Schematic Plan exhibition).
Owner of Hida-Furukawa's Calm's Cafe and woodworker, Mr. Katada, wholeheartedly offers a present to celebrate the pre-opening of Hidakuma. He's a superman-like figure who saves us all the time by accepting our strange and quirky requests.
The autumn festival ends! All the staff cry, "Yes, Hidakkuma!"
FabCafe Hida takes this opportunity to officially announce its opening in Spring 2016. Until then, let us continue to plan workshops, talk shows and gatherings that bring the locals of Hida together to meet, talk and get excited. Use our laser cutter and 3D printer to enjoy the thrills of craftsmanship! We want to create a space where all of you can come, learn, make, share and enjoy. So share your ideas and thoughts with us. FabCafe Hida awaits you!
Stay connected with event information and news through our blog or Facebook page and drop by when you have the chance. https://www.facebook.com/hidakuma